100 Kg Bench Scale
---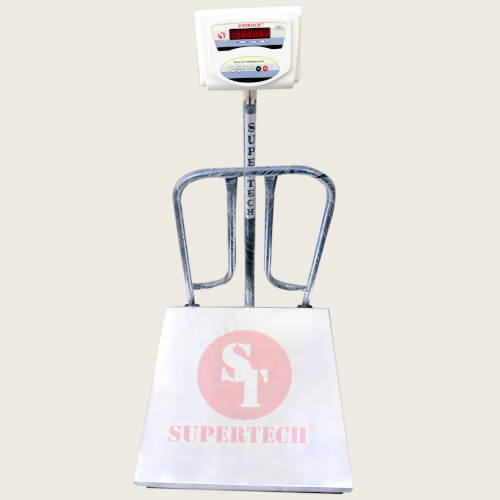 These range of bench scales are useful for Oil trading, Aquiculture, Groceries, Fisheries, Industrial application especially for corrosive atmosphere, etc. We are offering Bench Scale that can be availed at market leading prices. These scales are well known amidst the clients for precise measurement of weight and price of the objects.

Features of Bench Scale:
Precision Load Cell
Front & Back Dual Display
Four Selectable Response Time
Selectable Auto Zero Tracking
Full Capacity Tare Function
Auto calibration Facility With Standard Weights
Optional: Battery Backup Attachment
Technical Specification:
Capacity
Accuracy
Platform Size
---
30 Kg
2 gm
350 x 350 mm
---
50 Kg
5 gm
350 x 350 mm
---
60 Kg
10 gm
350 x 350 mm
---
30 Kg
5 gm
400 x 400 mm
---
50 Kg
5 gm
400 x 400 mm
---
60 Kg
10 gm
400 x 400 mm
---
100 Kg
10 gm
400 x 400 mm
Specification of Bench Scale:
Standard Capacities
100kg
---
Platter Size
400x400mm
---
Power Supply
Main / Battery
---
Display Digit
7 Digit
---
Number of Keys
6 digit
---
Battery Charger
Yes
---
Battery
yes
---
Remote Control
No
---
Number of characters on Display
7 Digit
---
Color
Red
---
Storage Capacity
No
---
Outer Body
Plastic
---
Function
Power On, Power Off, Tare, Unit, Func, Print
---
Power
Mains/Battery (6V/4Ah)
---
Printer
Yes (Optional) See less
---
Related Products / Services
Supertech Weighing Systems
Super Weighing System is ISO 9001:2015 Quality Certified Company and is the new venture of 28 years old company which has been involved in the manufacturing of all kind of weighing scale for weights and measuring field since its inception. Our high quality weighing machine products are coupled with prompt and efficient after-sales services, have earned us unprecedented success in the domestic market as a Manufacturer, Supplier & Trader of an unmatched range of products that are highly durable, accurate, compact, and cost-effective in all over India.

We have a state-of-the-art infrastructural base located at Ghaziabad, UP in India that aids us in addressing our production related requirements in a swift manner. We are well recognized as one of the prominent manufacturer and supplier of wide range of Electronic Weighing Scales. Stretched across a vast expanse, it houses a well-equipped manufacturing facility installed with latest machines and equipment like drilling machines, welding machines, finishing machines, etc. These machines are regularly cleaned and lubricated to ensure smooth productivity throughout.
Products / Services
---
Electronic Weighing Scale, Electronic Milk Weighing Scales, Weighing Machine, Digital Weighing Scale, Counter Scale, Light Duty Platform Scale, Table Top Scales, Bench Scale, Platform Scales, Heavy Platform Scale
Year of Establishement
1992
Nature of Business
Manufacturers
Contact Person
Mr. A.K. Makharia
Certification
an ISO 9001:2015 Quality Certified Company
Contact Us
---
Supertech Weighing Systems
87-A, Hapur Road (Serves Noida)
Ghaziabad 201001
Uttar Pradesh, India